Yellow Starthistle
(Centaurea solstitialis)
Priority: - Prevent
Tags: Agricultural | Toxic | EDRR
Identification and Reproduction
Identification:
Yellow starthistle is in the Asteraceae family and is a long-lived winter annual

Stems

are erect, rough, branching and can grow up to 1 m in height. Sometimes it can grow in clusters that appear shrubby.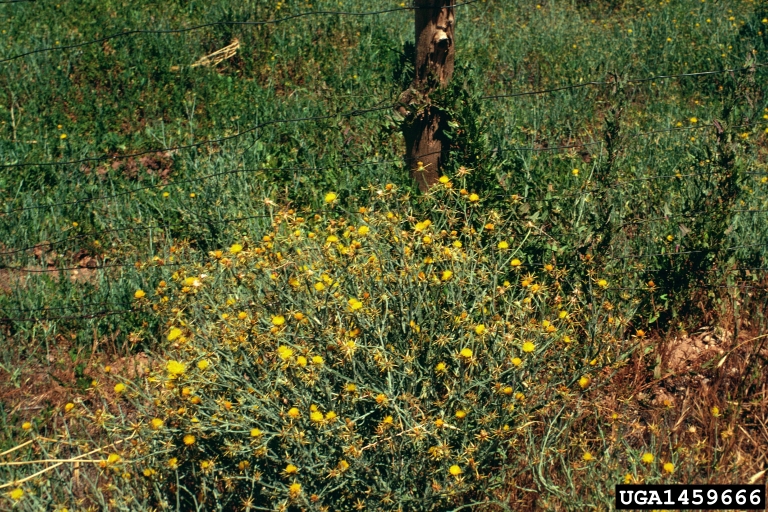 It is much like other knapweeds and will form a rosette in its first year of growth. After bolting the lower stem will appear wooly and grey.
Lower

leaves

are deeply lobed while upper leaves are toothless and sharply pointed.
This plant produces bright yellow

flowerheads

that are found at the end of stems. They are distinct with sharp straw-coloured thorns that can reach 2 cm long.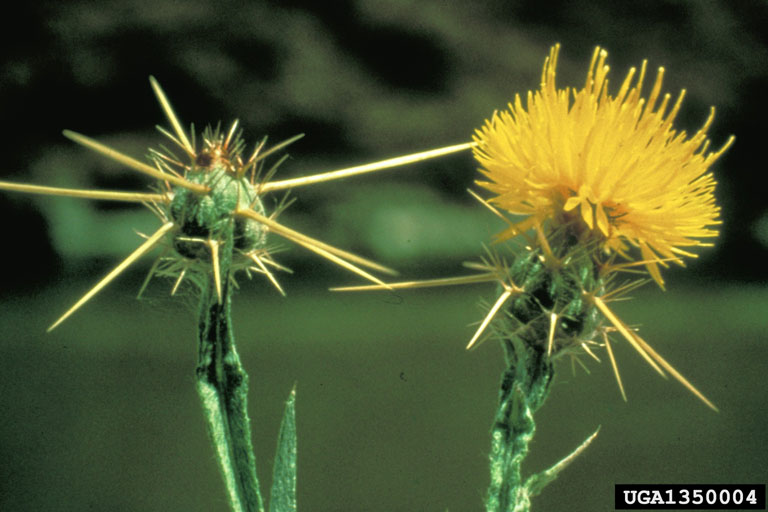 Reproduction:
Yellow starthistle reproduces by seeds which are easily dispersed.
Seeds are known to spread through hay and vehicles.
Habitat & Ecology
They prefer dry sites that are fully exposed or have a south facing aspect.
It is also commonly found on rocky, shallow soils.
Taproots extend well below the ground to tap into undergrown water resources.
Considered a pioneer species, taking over recently disturbed sites.
Yellow starthistle has been observed in Alberta, British Columbia, Ontario and Saskatchewan but populations have been eradicated.
Impacts
Social:
This aggressive plant is out-competing foraging plants and reducing rangeland values.
It is toxic to horses and if consumed can cause "chewing disease" in horses. It contains a toxin that can disrupts the nervous system and brain, restricting eating and drinking of horses.
Can contaminate alfalfa and grain crops.
Ecological:
Invades environments and can reduce biodiversity and wildlife habitat.
Can exhibit allelopathic effects on native species.
Management
Prevention is a high priority for this plant.
Use clean and certified grain, hay, straw and seed mixtures.
Clean equipment, machines and vehicles of any soil or plant parts before leaving a work site.

Contact the Canadian Food Inspection Agency (

CFIA

) if you think you have seen this plant.
Mechanical/Manual Control:
Plants can be pulled, hoed, tilled or mowed prior to flowering.
Mowing is only effective if plants have bolted and are tall.
Cultivation of the soil can also help control yellow starthistle, helping to bury seeds deep in the soil.
Chemical Control:
Herbicides are most effective when applied during its transition from rosette to bolt (prior to flowering).
Currently picloram, dicamba and 2,4-D are registered for use on yellow starthistle in BC.
Please carefully read chemical labels prior to application.
Biological Control:
There are 6 natural predators of the yellow starthistle. They have been imported into the USA from Greece and have been used as a biological agent.
These insects: weevils and flies, attach the flowerhead and halt seed production.
Resources
Download A Guide to Weeds in British Columbia on Yellow Starthistle here.
For more details check out the Invasive Species Compendium datasheet on Centaurea solstitialis (yellow starthistle).
Header photo (Matt Lavin).